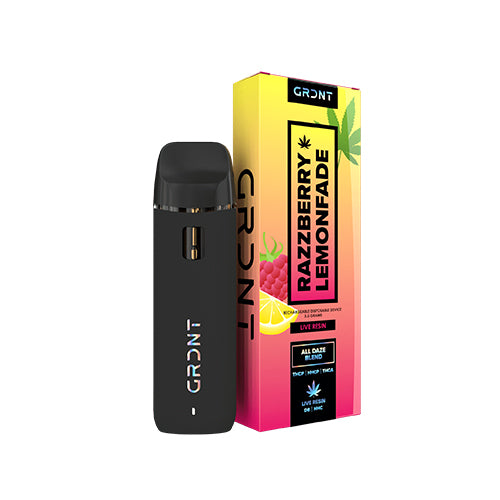 GRDNT All Daze Blend Disposable Vape | 3.5 Grams
GRDNT All Daze Blend Disposable Vape | 3.5 Grams
Bringing you extraordinary flavors, mind-massaging effects, and benefits that please the body, the GRDNT All Daze Blend Disposable Vape is a ground-breaking device that will leave you amazed from start to finish. It is the pinnacle of cannabinoid perfection, combining live resin Delta-8, HHC, THCP, HHCP, and THCA.
GRDNT All Daze Blend Disposable Vape Review
What are GRDNT All Daze Blend Disposables? The GRDNT All Daze Blend Disposable Vape is an innovative vaping device that is rechargeable, yet disposable. It features a compact design and comes equipped with an integrated rechargeable battery, alongside the All Daze Blend, which consists of live resin Delta-8, HHC, THCP, HHCP, and THCA, giving you cannabinoid perfection. With the 3.5-gram blend, an automatic firing mechanism for greater convenience, and an explosion of delicious flavors, you'll love every moment with this incredible vape. Enjoy flavors like EZ Baked Cake, Honey Deew, Pina Cloudlada, and Raspberry Lemonade.
If you are up for the most amazing flavors you've ever experienced, euphoric effects, and benefits from a variety of cannabinoids, you'll love the GRDNT All Daze Blend Disposable Vape. This is the device that you should be vaping on, as the spot-on flavors themselves are worth it!
GRDNT All Daze Blend Disposable Flavors
EZ Baked Cake (Hybrid): Enjoy the sweet and creamy goodness of this smooth and delicious vanilla cake flavor. It's an indulgent delectable that will satisfy your sweet tooth and keep you coming back for more.
Honey Deew (Hybrid): Experience the sweetness of this summer's favorite flavor. It's a blend that offers a juicy melon flavor and a hint of tropical goodness to give you a tasty, fruity vape.
Pina Cloudlada (Hybrid): Bombard your taste buds with an amazing combination of sweet pineapples and creamy coconut flavors. It's a spot-on flavor that tastes as if you were sipping on a fresh pina colada.
Razzberry Lemonade (Hybrid):  Giving a mesmerizing taste to look forward to, there isn't anything quite like the combination of sweet raspberries and tangy lemonade. It's a world full of flavor, and your new adventure awaits.
GRDNT All Daze Blend Disposable Features and Specifications
Disposable Design
Integrated Rechargeable Battery
Type-C Charging Port
Live Resin
Daze Light Blend  - Delta-8, HHC, HHCP, THCP, THCA
Amount: 3.5 Grams
Strain-Specific Terpenes
4 Flavors Available
Total Delta-9: Below 0.3%
Product Includes
1 x GRDNT All Daze Blend Disposable Vape