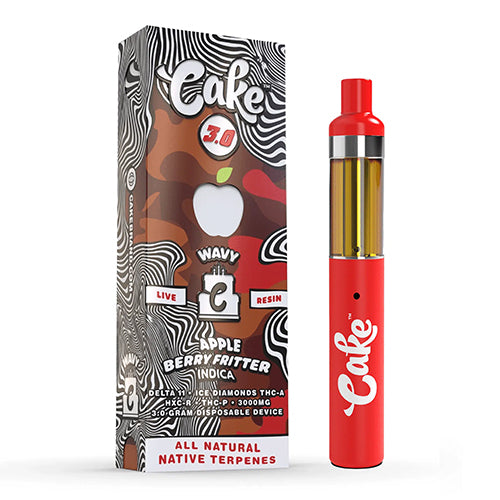 Cake 3.0 Wavy Live Resin Disposable Vape | 3 Grams
Cake 3.0 Wavy Live Resin Disposable Vape | 3 Grams
Cake 3.0 Wavy Live Resin Disposable Vape Review
Housing a magnificent blend of cannabinoids that will lead you down a trippy road, the Cake Wavy Live Resin Disposable Vape is astonishingly impressive. It maintains the same level of quality, performance, and convenience for users as past Cake devices, yet it features a blend and selection of flavors from strain-specific terpenes that will ensure you're satisfied puff after puff.
What are Cake 3.0 Wavy Live Resin Disposables? The Cake 3.0 Wavy Live Resin Disposable Vape is a compact, performance-driven disposable vape pen that is much bigger than its size. It is lightweight, easy to use, and features a combination of cannabinoids and strain-specific terpenes that will easily win anyone over. Within the device is the gem, however. It boasts a fascinating blend that combines Delta-11, Ice Diamonds THCA, HXCR, and THCP. Infused into the 3 grams of cannabinoids are strain-specific terpenes that deliver brilliant tastes that are certainly pleasing. The device comes with an integrated rechargeable battery, a USB type-c charging port, and a built-in draw-activated mechanism.
If you've been wanting to experience a wild, rare blend of cannabinoids, and some of the most delicious flavors from terpenes, then you'll want to choose the Cake 3.0 Wavy Live Resin Disposable Vape. It sports some astonishing tastes, cannabinoids that produce euphoric effects, and many sessions from its 3-gram blend.
Cake Wavy Live Resin Disposable Vape Strains
Blueberry Diamonds (Hybrid): A Hybrid strain that has a delicious flavor, which combines sweet blueberries, pine, and citrus flavors. It offers a balanced blend of effects, made to uplift you and generate relaxation.
Zlush Puppy (Hybrid): A Hybrid strain that shares a mixture of sweet and earthy notes of flavors. It is an effective blend that creates the perfect balance between a cerebral uplift and enjoyable relaxation.
Apple Berry Fritter (Indica): An Indica strain that offers a unique flavor profile that is both earthy and sweet. It provides smooth, sedative-like effects that will leave you with a calming euphoria.
Hawaiian Sweet Haze (Sativa): A Sativa strain that sports a tropical flavor that combines sweet and earthy flavors. The blend generates amazing effects that will energize and offer laser focus.
Cake Wavy Live Resin Disposable Features and Specifications
Integrated Rechargeable Battery

USB Type-C Charging Port
3 Gram Wavy Live Resin Blend
Delta-11, Ice Diamonds THCA, HXCR, THCP
All-Natural Native Terpenes
Draw-Activated Mechanism
< .3% 

Δ9 THC
Product Includes
1 x Cake 3.0 Wavy Live Resin Disposable Vape