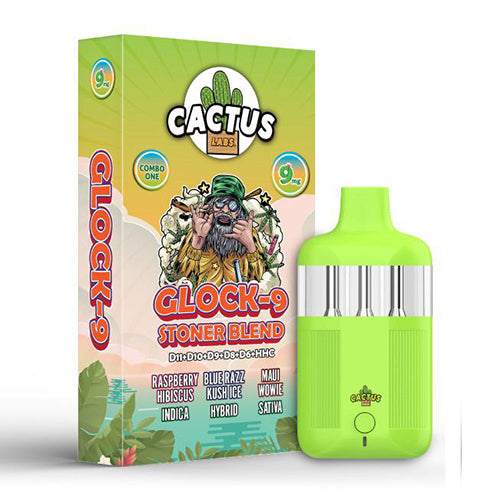 Cactus Labs Glock-9 Stoner Blend Disposable Vape
Cactus Labs Glock-9 Stoner Blend Disposable Vape | 6 Grams
Cactus Labs Glock-9 Stoner Blend Disposable Vape Review
Deliver a trifecta of flavors, a super blend of effects, and an experience that is truly unmatched, the Cactus Labs Glock-9 Stoner Blend Disposable Vape is simply out of this world. It's an unearthly vape that will send your body and mind into a state of euphoria and your taste buds in bliss.
What are Cactus Labs Glock-9 Stoner Blend Disposables? The Cactus Labs Glock-9 Stoner Blend Disposable Vape is a small, yet convenient vaping device that features a capacity much larger than its size. It has an integrated rechargeable battery and three separate cartridges that allow you to choose between 3 different strains with a click of a button. Within each cartridge is a 3-gram blend of Delta-11, Delta-10, Delta-9, Delta-8, Delta-6, and HHC, alongside strain-specific terpenes. You'll enjoy a total of 9 grams per device. Including a built-in off/off button and an automatic firing mechanism, you'll be nothing short of pleased with the Glock-9 Stoner Blend Disposable.

If you've never thought a threesome... of strains was possible, then you've mistaken the innovation that Cactus Labs is able to deliver. They've come up with a device that delivers a 9-gram stoner blend that will rock your world, and deliver delicious tastes at the same time.
Glock-9 Stoner Blend Disposable Vape Strains
Sour Gorilla + Jack Herer + Peach Flambe

Raspberry Hibiscus + Blue Razz Kush Ice + Maui Wowie

Blue Dream + Cherry AK-47 + Tropicana Cookies

Spearmint + Cookie & Cream + Pina Collision

Tropical Cooler + Red Velvet + Pineapple Express
Glock-9 Stoner Blend Disposable Features and Specifications
Integrated Rechargeable Battery
First Ever 9-Gram Disposable
Delta-11, Delta-10, Delta-9, Delta-8, Delta-6, HHC

Innovative 3-Strain Disposable
Single Power Button
Bottom Button Strain Selection
Automatic Firing Mechanism

< .3% 

∆

9 THC
Product Includes
1 x Cactus Labs Glock-9 Stoner Blend Disposable Vape